Empowering Sexual Health with at Home STD Testing
SelfCollect is a service that enables confidential or anonymous at-home STD testing, with highly accurate results provided by accredited medical professionals.
SelfCollect came to us for product strategy, marketing, website design and development. As we learned more about their vision, its potential became apparent. It's not often we're involved in a project that has such a direct impact on the health of the user. The largest challenge was dealing with the sensitive nature of sexually transmitted diseases. Together with the SelfCollect team, we let empathy guide our decisions throughout the project. The result is a product that empowers customers to take control of their sexual health.
Defining SelfCollect
Product Strategy
The social stigma attached to sexually transmitted diseases made defining SelfCollect's voice a delicate matter. We had to convey important medical information in a calm and reassuring manner. The copy's tone was inspired by their team's professional medical experience, distinguishing them from their competitors. In the spirit of true medical professionals, education was a priority. The resource center section of the site was specifically created to provide information promoting sexual health throughout communities.
The end result is a product that is human, professional and trustworthy.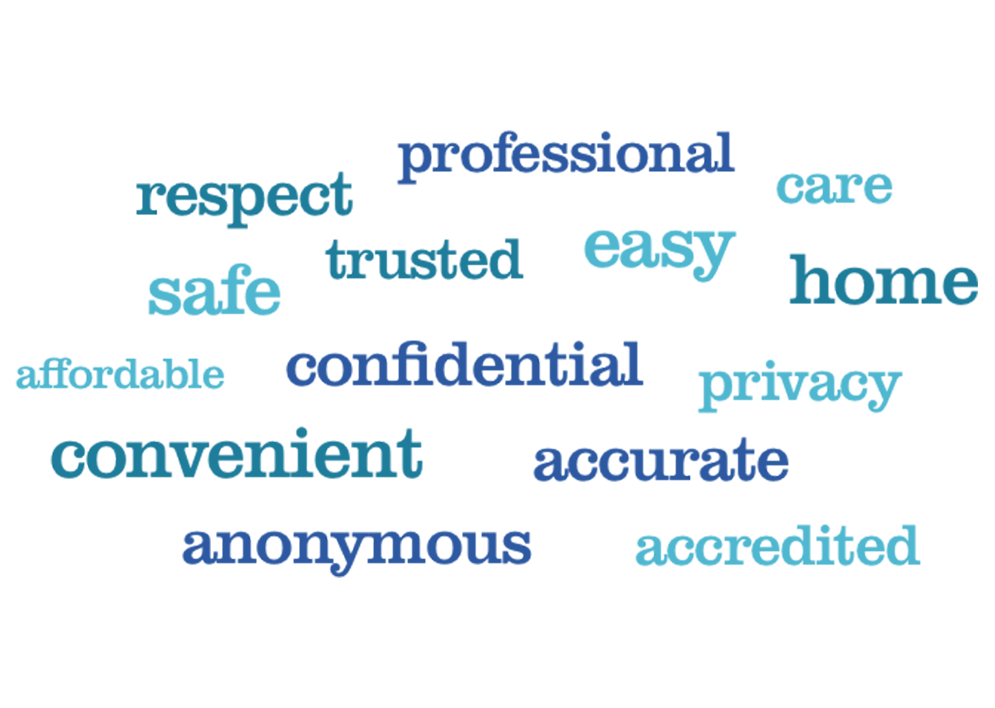 Finding SelfCollect's Voice
The site's copy was especially challenging. Talking about sexual health can be very intimidating. Site visitors are likely in a very sensitive, emotional frame of mind, and a poorly chosen word can cut short their engagement. We avoided jargon where possible and used empowering, reassuring language to help put visitors at ease.
Speaking with Pictures
The illustration style was influenced by the positive and simple keywords. The color palette uses an array of blues, creams and whites that convey cleanliness and simplicity. Throughout the site, illustrations are used to help explain abstract concepts while keeping a sense of warmth.
An Animated Introduction
We needed to explain the basics of the product to new customers. Using the SelfCollect voice and illustration style, we created a short animated video explaining how the service works. Quickly and succinctly, the narrator outlines the convenience of at home STD testing and how it works.
In the animation itself, we used a lightbulb to represent the SelfCollect service. All the action centers on a house, a representation of the convenience of the service. The light bulb turns on in the beginning to illuminate a new way of doing things. The customer's hand turns it off at the end to show their control of the situation.
This video helped define how we introduced and talked about the SelfCollect product. It is also a multipurpose deliverable that can be used in advertising and shared easily. As a self-contained message, this video works just as well independently as it does on the site.
Reassuring, Educational, Accessible
Website Design
As we began the website design process, we returned to the guiding principles of the SelfCollect brand for inspiration. We started with most customers' first impression: the home page. Within just a few seconds we needed to convey what the service does, how it works and the available tests, in a way that earns their trust. The product had to appear modern, clear and sympathetic.
Our goal, again and again, was respect.

Simple Experience, Extensive Usability
Our information architecture process resulted in a site flow that elegantly simplified a complex behind-the-scenes functionality. Within just a few steps, and without much reading required, customers can learn about the process, choose their tests, customize their orders and quickly have their at home STD testing kit in the mail. For those who want more, the robust resource center offers a wealth of health information that explains in clear, reassuring and honest terms what can so often feel very intimidating and overwhelming.
Design that Speaks
When it came time for creative direction, we needed visuals that could communicate SelfCollect's brand qualities. Working closely with their team, we arrived at an expertly-curated design vocabulary. The website design features a contemporary color palette, clean and modern typography, and a versatile hierarchal grid.
Equal Access
Adapting this design into front-end code revealed another opportunity for customer empathy: responsiveness. The experience of using SelfCollect is no different, whether you're at home on a tablet, at work on a monitor, or riding a bus while using your phone. From end-to-end (e-commerce, checkout, resources, checking your results) it is the same beautiful, tasteful, accessible site, fitted to wherever you are. Nobody is left out, and everyone gets an ideal experience.
A Solid System
Backend System
The results of these tests are confidential and must be handled very carefully. Allowing anyone else to see a customer's results is not only an egregious breach of privacy, but also has serious social consequences for people in sensitive situations.
Anonymous users were top of mind when we architected this system. When a customer wants to check out anonymously, they can create a unique user PIN. The PIN works with two other pieces of information to provide a triple-layer level of access protection. Additionally, their results are automatically purged after 60 days.
For added security, the Results Access Page is completely separate and unbranded. In the event a third-party finds the URL tear-off strip from the at home STD testing kit, the access page gives no indication what the product is. We use a secure token scheme to verify a customer's identity and admit them to the SelfCollect site to view their results.
Secure and Simple
We also provide a regular signup and login process for secure and easy access. Registered users can view a confidential history of their results that is filterable by date and test. Users are anonymous even to the lab techs. We go above and beyond even HIPPA requirements.
Accurate Order Entry
With so much riding on the results of these test, the system couldn't get in the way of fast and accurate data entry. Each collection vial has a label with a specific barcode and test information. This allows the lab techs to enter results quickly and precisely.
Respectful Notifications
Users can choose their preferences for notification when their test results are ready for viewing on the website. All notifications are carefully copy edited so the messages don't breach the patient's confidentiality. Customers can select between email, SMS or no notification at all.
The team at Moby recently developed our complex, medically related e-commerce website. Our experience working with all personnel at Moby could not have been better. They were professional, intuitive, and supportive from day one. Their attention to scheduling detail, website structure, and immense creativity was excellent, providing us with the confidence that our ultimate goal of a functional and engaging website would evolve in a timely manner. The final product has exceeded our expectations. I would recommend Moby, to anyone seeking website development and ancillary e-commerce structures.
Proud to Create at Home STD Testing
It's not often that we're a part of something that's truly lifesaving. Working within the sexual health field has been a humbling experience for all of us at Moby, and something SelfCollect does every single day. We are thrilled they gave us the opportunity to design materials for such a high-quality product, and we are proud to have played a part in giving people access to such trustworthy, impactful, and professional medical services.