The Volt Athletics Platform is a responsive web application, offering curated exercise routines, comprehensive progress tracking and biometric feedback, allowing coaches, trainers and athletes to compare their progress to their teammates and across the entire performance metrics database.
All Access Strength Training
We were very excited to work with Volt Athletics to plan, design and help build the all-new Volt Athletics Platform — a web-based, strength and conditioning solution for coaches, trainers and athletes at the high school, college and professional levels.
Volt creates amazing data-driven conditioning programs, designed by the nation's top physical fitness professionals. They approached us to evolve their unique brand of strength training with a responsive web application.
As Volt's business grew, their existing system began to show its age. It was built using an out-of-the-box content management solution, and fundamentally couldn't support the expanding feature set. Additionally, they realized that the complexity of the user flows would soon outgrow the system. A major part of the initiative involved expanding the product offering to include individual athletes as well as the team environment. From a technical point of view, we were heavily focused on upgrading the speed and reach of the new platform.
Balancing Complexity and Usability
After a two-day discovery meeting, we knew coaches needed a huge amount of control over the system, but the sheer number of features was daunting. How to design a system that allows a user to mark a workout as complete, add notes to a workout, create injury exceptions, enter calibration data and view and print workouts, all on both an individual and group basis and without being overwhelming?
During our conversations, we learned that coaches spend a lot of time working with data and spreadsheets. The humble table was our answer. We designed the coach train table to be both powerful and accessible. It can handle all the complicated bulk actions, yet it's familiar enough to avoid overwhelming the user. Coaches now have access to all the most common actions as soon as they log in. As an added bonus, the table also provides a top down summary of their team's health. Coaches can quickly see what needs to be done, and do it in a snap.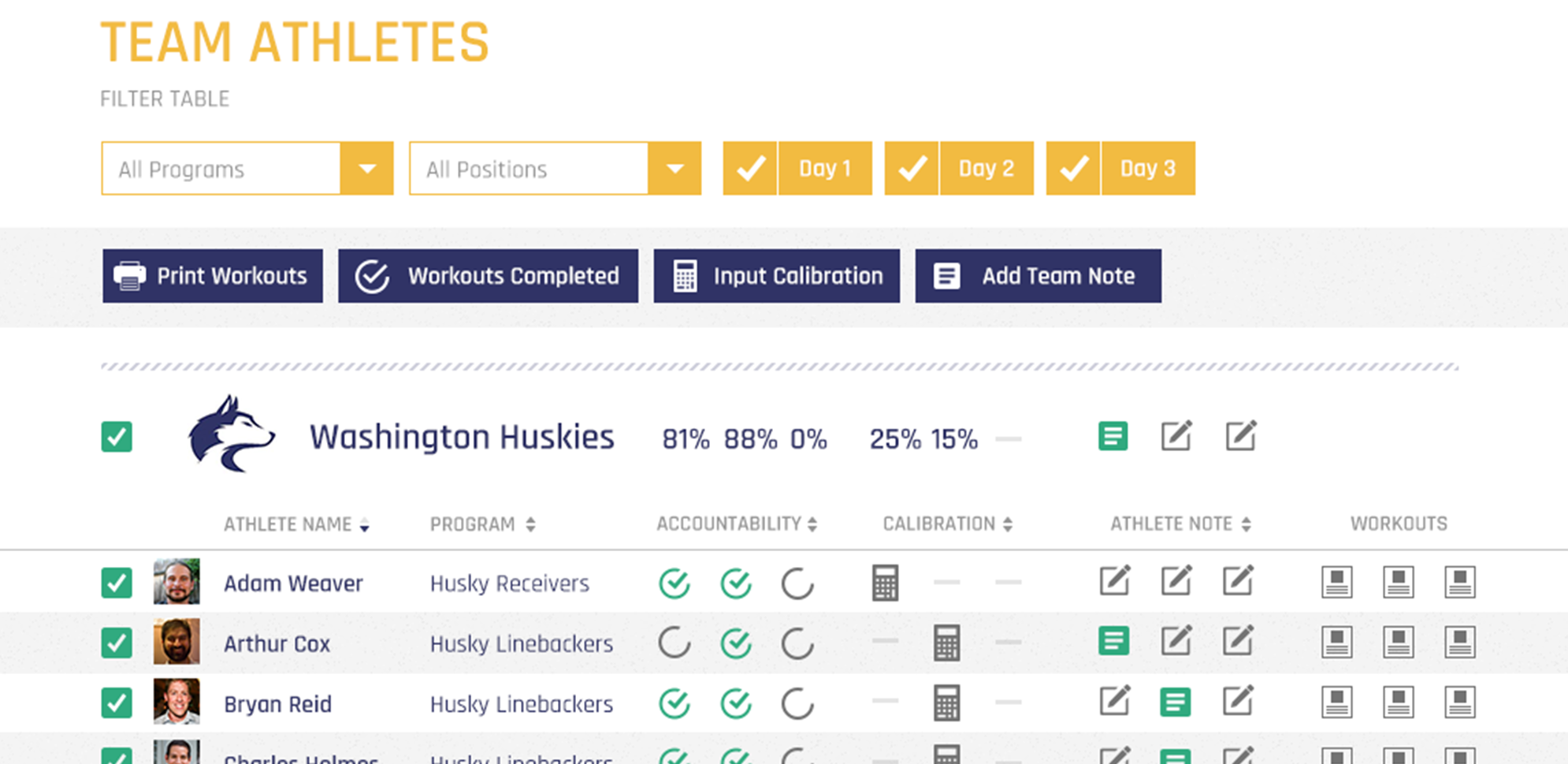 Making Users Feel at Home
A large portion of the target demographic are college and high school teams. Within the application, each team needs to feel that their page was made for them – they won't touch a product that displays their rival team's colors. Using just two Sass-enabled customizable colors and a team hero image, we were able to make each page feel uniquely branded.
Competition as Motivation
In any sport, competition is a major motivator. We wanted to bring that motivation into the Volt Platform to encourage engagement. Each athlete can now compare their own performance to their teammates, as well as to the average Volt user. They can match up on completion of workouts, the progression of their training and custom measurements added by their coach.
Coaches can also take advantage of this new tracking. They can see how sections of their team stack up against each other and how their team compares to the Volt average.
Greater Access
An athlete lifting weights at the gym has different needs than a trainer with an iPad on the field or a coach who's sitting down to look at their team's overall performance. The application responds to device type and user roles to surface relevant information and actions.
For example, athletes can see an optimized version of their workout on their phone while training. Coaches can manage their teams via tablets, and print custom sheets for each athlete.
Better Together
We worked in partnership with Volt to design an API that would be optimized for bulk actions, allowing a coach to update an entire team's workouts and progress in a single request. We then developed an Angular.js front-end that works in concert with the API to create an experience that's fast and fluid.
Many of the coach screens were designed to be very information dense, with a large amount of information displayed across several pages. This required a top notch API from us and a solid back-end from Volt. The two development teams worked closely to ensure that both sides of the application worked together seamlessly.
In addition to in-person meetings, we also used Slack to communicate with their development team while the project was underway. This helped facilitate conversations necessary to keep the project moving, without slowing down the workflow of either team.
Product development is an inherently collaborative process. Teams working together to create content, design and code, require seamless communication and trust. Many of the best products we have designed have been with great partners, like Volt. Our relationship with the Volt team is among the strongest we've ever had and we're proud to celebrate the work we've been able to accomplish together.
---