Professional Photography on the iPhone
Mastin Labs creates top tier presets that recreate the warmth and life of analogue film with digital photography. We became their research and development partner on Filmborn, a native Swift iOS 10 app that brings the feel of film to the iPhone.
Mastin Labs is a company built on a love of photography. They produce beautiful presets for Lightroom and Photoshop that allow digital photographers to apply film effects to their work. Kirk Mastin, the founder of Mastin Labs, is a professional photographer and film expert. Each preset his company creates is obsessively true to the nuances of real film. With the explosion of quality smartphone photography, Kirk saw the opportunity to recreate his work on the iPhone. We were chosen to apply our R&D skills by developing the native app for iOS through collaboration with their design team.
The Proof of Concept
The core of this app requires translating professional photography editing from the desktop to an iPhone. We needed a way to leverage Kirk's extensive knowledge of his presets to answer the big question: was it possible to recreate them on the iPhone?
We turned to one of our trusted methods: a proof of concept prototype. It was operated by (of all things) a midi controller. This allowed Kirk to adjust individual parameters on the controller while viewing the full screen photo on the iPad. During this process, we discovered iOS has a limited number of built-in parameters for photo editing, so we rolled up our sleeves and custom coded the missing parameters into the prototype. We managed to fast-track the POC app by focusing our research and development skills on the core functionality. This prototype allowed Kirk to collaborate with our developer, by instantly seeing the effects, validating their quality and providing the exact settings to recreate Mastin Lab's presets. Once the they were perfect, we leveraged the workbench library for the iOS 10 app.
Our Development, Your Design
Mastin Labs created all the UX and design while we provided the skills needed for native app development. Our developer collaborated with their designers by giving functional and strategic feedback to proposed features in the research and development phase. Mastin Lab's designers created the features and visuals of the app, while we quickly translated them into prototypes that could be tested and tweaked.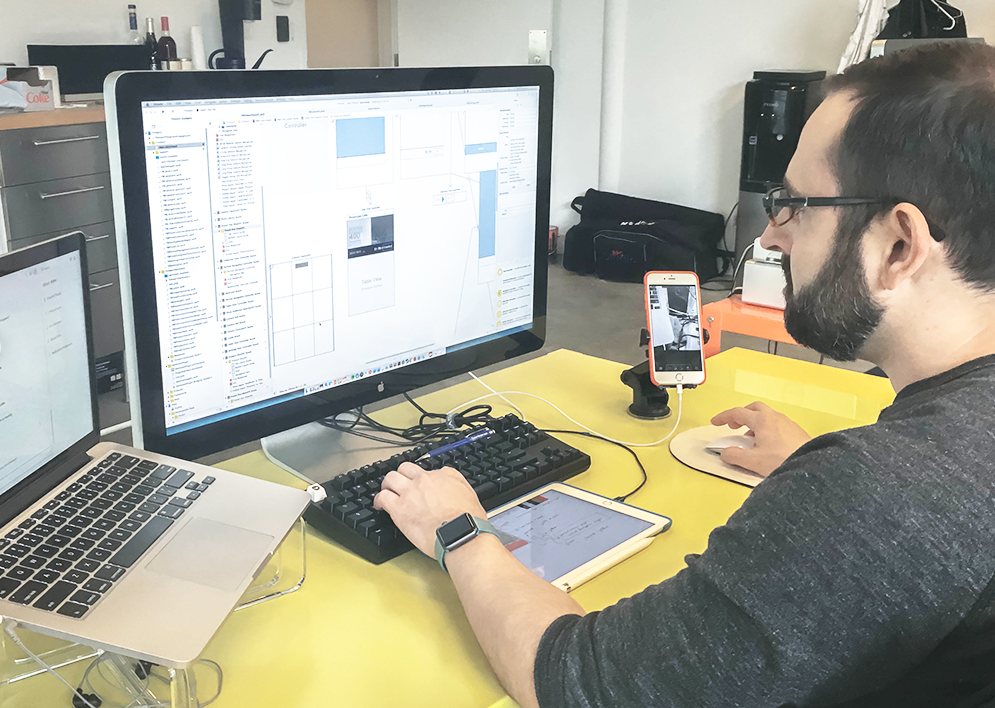 Cutting Edge Development
In any long term project, there is the possibility of new features and operating systems being announce mid-project. On Filmborn we were excited to take advantage of new iPhone features and capabilities as only a native app can. We integrated 3D touch as a shortcut to favorited photos, we took advantage of the plugin functionality by allowing users to edit with Filmborn right from the default photos app and we are even planning to add RAW support. To top if off, everything was written in Swift, Apple's newest programming language that tops Objective-C in speed performance by 260%.
Testing with Real Photographers
An important part of our R&D process is testing our work. As the app started to take shape, prototypes were released in stages to a dedicated testing audience. The testing group was made up of professional, and semi-professional photographers itching to try out the Filmborn app. Through hands-on use they provided input on the accuracy of the presets and the wide array of features included in the app.
Flimborn 1.0
We are proud to launch the native photography app Filmborn. It gives semi to full fledged professional photographers access to a level of control in shooting and editing that's unprecedented on the iPhone. With a robust set of features for getting the perfect shot or perfecting it afterwards, Filmborn is the only photography app you'll need.
Copy and Paste

The film effects are completely editable in Filmborn, and it's easy to do batch editing as well. Simply long press on an edited photo to copy it's preset and then select the rest of the photos to paste that setting onto.

Gesture Swipe

Our testers loved the gestural functionality of editing while shooting. A simple swipe of the finger allows you to quickly adjust the light balance and exposure before you even take a shot.

Smart Controls

Each adjustment slider effects multiple parameters at once, smartly adjusting the photo so it always looks its best.

Optimized Camera

In any setting, the difference between a good and a great photo can be seconds. Using the Swift language, we optimized the time between capturing photos by tenfold.
Pretty as a Picture
Our R&D collaboration on this project was powered by iteration and motivated by the search for perfection. It's always a joy to work with someone who is passionate about their project. Kirk put the same level of detail into Filmborn that he puts into all his work, from photography to preset creation.